HomeZada Pro gives real estate professionals the power to engage clients throughout the buying, owning and selling cycle.
Provide value with innovative technology
A bottle of wine does not help your client manage their largest financial asset, their home. HomeZada Pro gives you the ability to provide your client with proven solutions to manage their home.
Clients manage digital home information:
Enter and track your HomeZada gifts to your clients
Maintain a loyal relationship for a lifetime
Your branding ad displayed on the dashboard to client
Your clients will remember you with your online and mobile branding ad for years as they use HomeZada to manage their largest asset.
Never lose the referral or listing to another agent. Be the agent that gets the call when they decide to sell.
Dazzle sellers with a differentiated approach
Bring something totally unique to your next listing presentation. The Zada Listing puts your best marketing forward for your client.
These days, every agent does virtual tours. Every agent puts their seller's listing on the big real estate sites. The Zada Listing leverages the data and photos collected in your HomeZada Pro account to showcase a listing in a completely new way.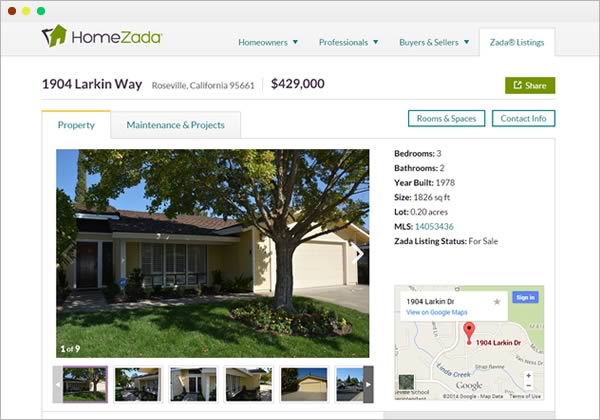 Room by room tour with unlimited photos, docs and more
Increase client loyalty by gifting a valuable app to help them manage their home
Build your personal brand with mobile and online ads in front of clients
Get five brand impressions per month with app and email branding ads
Differentiate your service by being a trusted advisor on managing a home
Increase referrals and repeat business through your value added service
Use unlimited photos, videos, documents, links, and projects to market the property